Are Denture Implants Painless?
Denture Implants – If you are considering implant dentures, it is the ideal option. As a popular method, implant dentures can bring back your smile, and you don't have to worry about pain or postoperative discomfort.
All you have to think about is their ability to give a natural look and are certainly sturdy. Moreover, the teeth are made of the best materials, which effortlessly fuses to the bone in the place of missing teeth. Implant dentures are the best option to preserve the teeth' alignment.
Though there are several ways to replace the missing teeth, implant dentures can be cost-effective, and it is also best for your overall health. Conventional Dentures are way too better than old dentures used for years. With the advancement of technologies, old dentures are now comfortable to wear and look natural. The Denture Implants ensure that you gain back the natural smile.
Why should you prefer implant dentures?
A Denture Implant is a type of denture that is aided by and attached to a dental implant to rest on the gums. The technology used for single tooth implants is used for implant dentures. However, the difference is that two to six implants are used.
You can choose between a removable implant denture or a fixed implant denture as it determines the number of implants used. If you are worried about the pain implant dentures can cause, check out the process to know why this is a better option.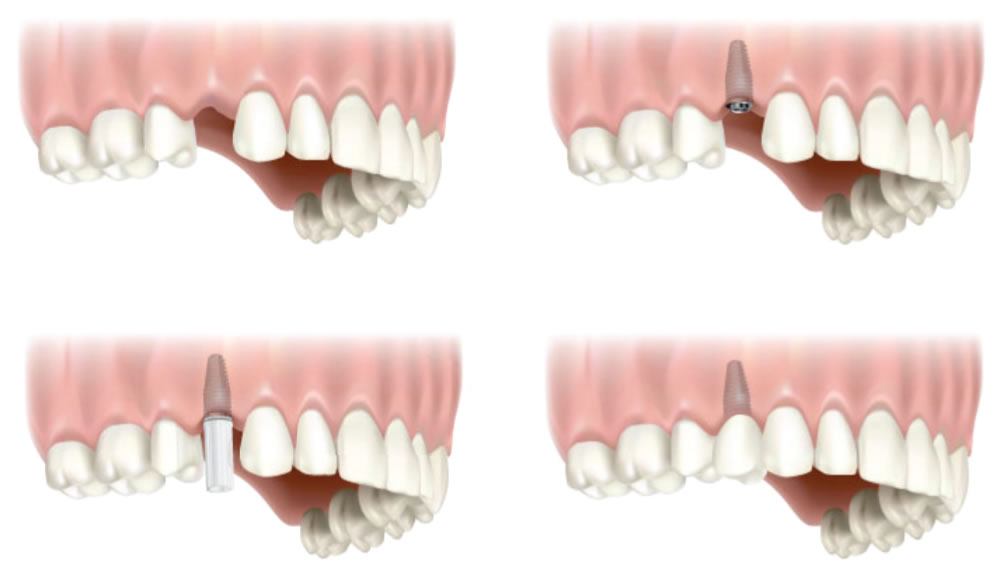 The process of Denture Implants
The very first step is to connect with the specialist and get an initial consultation. When you connect with the dentists, it will be easier to understand the process in detail. Your dental professional will carry out any essential implant surgery, but you don't have to worry about the pain. The dentist uses either local or general anesthetic to procure the important surgery without pain.
Most people have some doubts about denture implants, and it is crucial to know that the process won't be painful. However, you might have discomfort for some period, but it usually fades away when the dentures settle well in your mouth. It is clear that a denture implant is not a painful process, but you should connect with the dental professional if you encounter pain. The dentist will find the root cause of the pain and sort it out immediately.
The implant dentures are preferred by several patients as there are numerous benefits like enhanced stability, easier maintenance, comfortability and more. You can enjoy scrumptious foods without any hindrance.
Cost is one of the factors that keeps several individuals from getting the best dental treatments. However, our denture clinic offers cost-effective treatment, and our dental professionals assure the best care possible.
With nearly three decades of experience in the field, Waverley Denture Clinic delivers personalized services for patients. We understand that dentures are the cost-effective option to implants, so we provide the best dental services for the patients. Book an appointment with our dental specialists right away.
Book a Free Initial Consultation
I am so happy with my dentures! Ania made a mold from my own teeth so it looks as though I have had my teeth straightened and whitened. So natural looking!
Anna has been providing dentures for my patients for years now and has always done an excellent job. Her service is very professional and reliable. Highly recommended!
I would like to use the word "professional", but they exceed far more than that! Waverley Denture Clinic not only assist with denture-related concerns but really understand their clients well.