Why Waverley Denture Clinic?
At Waverley Denture Clinic we provide personalized services addressing your individual needs and at an affordable price. Our principal technician has been practicing for more than 25 years and has experience in both Australia and Europe. All our dentures are made locally here in Melbourne so there are not long delays waiting for repairs or products to arrive from overseas.
Dentures are normally made from acrylic and are otherwise known as false teeth. They are used to replace missing or lost natural teeth. Dentures are not just worn because you are getting older and are losing teeth. Some people require dentures due to an accident or gum disease. Dentures are often used as an economical alternative to implants.
Our clinic accepts most health fund benefits. Card and your health fund claim can be made and reimbursed at the time of appointment. We also accept payment options including most major credit cards, EFT Pos, bank transfer.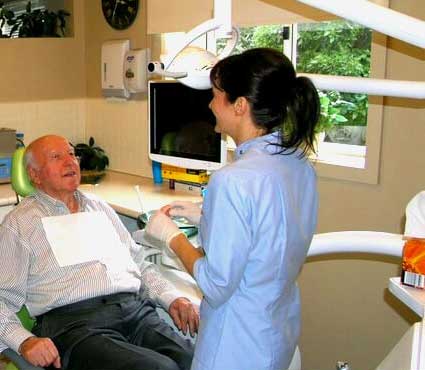 We discuss the costs and expected results to upfront. Our acrylic plastic dentures combined with metal clasps are an economical choice but is not recommended for long term use, unlike metal dentures.
We provide consultations to help you come up with a suitable treatment plan and to discuss the type of materials you would like for your metal frame dentures. We are always happy to help you with your choice!
Dentures are an effective and simple way to replace your teeth and help you enjoy a lovely smile well into later life. At Glen Waverley Denture Clinic we specialise in dentures and prosthetic teeth, providing cost-effective and customised products and services for you.
Our specialists also offer replacements for patients that have experienced accidents and emergency services for patients who are in pain and need immediate attention.
Look and feel great with treatment from our dental specialist in Glen Waverley. Call us today for a free consultation.
Free initial consultations for all our denture services. Waverley Denture Clinic offers personal service with attention to detail to insure your dentures not only fit well but help give you a youthful smile.
Lasting results, low prices
When it comes to dental care you need professionals that have your best interests in mind and have the expertise to provide the best care possible. Our high quality, affordable dentures are suitable for any budget and will last for years to come.
Conveniently located in Glen Waverley make an appointment to come in to our state-of-the-art denture clinic today.
Our dental laboratory in Glen Waverley is fully serviced with the latest equipment. The specialists at Glen Waverley Denture Clinic stay up-to-date on the latest developments in the dental industry, ensuring the most relevant treatment for you. Trained and certified in several facets of dentistry our professionals can provide a number of services including:
From older patients to younger patients we have been helping residents in Glen Waverley, Melbourne and parts of Victoria of all ages for years.
From designing and fitting dentures for you to providing treatment and consultation all of our services are performed with the utmost care and attention.
Whether you require frequent treatment or emergency service our dental specialists can help you.
We are always happy to discuss our available options with you.